Biography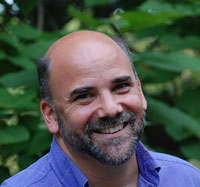 Sascha Feinstein is a poet, essayist, and editor. His books include two collections of poetry, Ajanta's Ledge and Misterioso (winner of the Hayden Carruth Award). His poems have appeared in such publications as American Poetry Review, The Georgia Review, The Missouri Review, and North American Review, as well as various anthologies, including American Poetry: The Next Generation, The Penguin Book of the Sonnet, and Poets Against the War.
His other books include two memoirs, Wreckage: My Father's Legacy of Art & Junk and Black Pearls: Improvisations on a Lost Year (now available from Carnegie Mellon University Press); a collection of interviews, Ask Me Now: Conversations on Jazz & Literature; and two related scholarly books, Jazz Poetry: From the 1920s to the Present and A Bibliographic Guide to Jazz Poetry.
His essays have appeared in many publications, including African American Review, Callaloo, The Chronicle of Higher Education, The New Grove Dictionary of Jazz, The Southern Review, and The Wallace Stevens Journal. He has written liner notes for albums by John Tchicai and Lynn Baker, and program notes for Jazz at Lincoln Center. He writes regularly for JAZZIZ magazine.
In 1996, he founded Brilliant Corners: A Journal of Jazz & Literature, which he still edits. He has also co-edited four books: The Jazz Poetry Anthology and The Second Set (both with Yusef Komunyakaa); The Jazz Fiction Anthology (with David Rife); and Keystone Korner: Portrait of a Jazz Club (with Kathy Sloane).
In 2008, he received the Pennsylvania Governor's Award for Artist of the Year. Since 2006, he has hosted Jazz Standards on WVIA, the NPR station for central Pennsylvania. An amateur saxophonist, he enjoys gigging at local venues.
He is Professor of English at Lycoming College in Williamsport, PA, where he has received both their junior and senior teaching awards.